Why Choose Shady Grove?
Working as Shady Grove Landscape Company, Danny and Tina Cook bring a fresh approach to life and landscaping. The company's history began in 1995 while Danny was in college studying finance. To make a living while he was a student he began cutting lawns. By the time he graduated, he had 75 maintenance accounts, 3 employees and a fledgling landscape business. At the same time, Tina was earning her ornamental horticulture degrees 800 miles away in Orlando, Florida. They met in 2001, married in 2002 and formed a partnership that has developed into Shady Grove Landscape Company. Together with their three sons, Danny and Tina make Gwinnett County their playground, community and a canvas for their landscape creations.
Any home renovation project has the potential to be a dream or a disaster. Hundreds of thousands of gray hairs are born each year during haywire construction projects. Read our overwhelmingly positive plethora of anonymous online reviews and join your friends and neighbors in their fanatic praise of the unique style of landscape construction of Shady Grove Landscape Company. Despite 15+ years of success, Shady Grove has chosen to remain a small, boutique landscape firm that is operated and obsessed-over by its owners. Visions of creativity, attention to detail, value of your time, quality craftsmanship, and love of outdoor life provide us the opportunity to create the landscape of your dreams that will also keep your gorgeous head of hair 'naturally blonde'.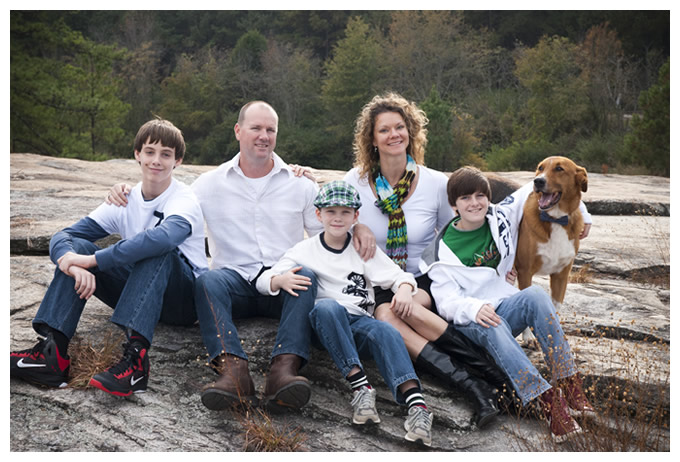 Shady Grove At A Glance
In business since 1997
Over 1000+ designs installed
Over 100 water features built
Over 600+ natural stone walls, patios, and fire pits constructed
Fully licensed and insured
2006-2015 Member of the Georgia Urban Ag Council, formerly M.A.L.T.A. (Metro Atlanta Landscape & Turf Association).
Winner of the 2009 M.A.L.T.A. Award of Distinction & 2011 Urban Ag Council winner of the Grand Award for Landscape Installation
Appeared on five episodes of HGTV's Curb Appeal: The Block in 2010-2011 & HGTV's Elbow Room in 2012
Member of the Gwinnett County Chamber of Commerce
Erosion control certified-Levels I & II
150+ positive reviews on Kudzu.com, Houzz.com and Google.com
Resident designer has two Ornamental Horticulture degrees
ICPI (Interlocking Concrete Paver Institute) certified-Levels I & II
Resident woodworking craftsman a former partner in Stone Mountain Construction from 1993-1997